Welcome
Welcome to Tommy's Designs. Thanks for stopping by!
We've been producing high quality resortwear with fresh, colorful, creative artwork for over 33 years.
We are a wholesale only company.
If you are already one of our Wholesale Customer and want to access the wholesale area, just click  right here  and enter your password.
Or you can click on the Wholesale Website menu button at the top of the page.
If you don't have a password or would like to become a Tommy's Wholesale Customer please contact the  Sales Rep  for your area or  Contact the office to register and get a password.
Thank you!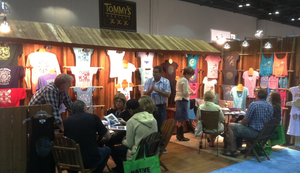 Tommy's Original Booth
Tommy's Designs was launched back in 1989 with the help of some very talented and hard working friends.
About Us